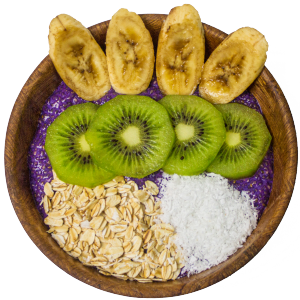 Ube Chia Breakfast Bowl
Enjoy a Pinoy twist to a Western breakfast with our Ube Chia Breakfast Bowl! We've made your morning cereal even yummier and healthier with fresh ube halaya, dried coconut flakes, chia seeds and granola topping! Plus, you also get a hefty serving of fresh fruits like banana and kiwi slices.
PRICE: P185.00
CALORIES: 611kcal, CARB: 90g, PROTEIN: 20g, FAT: 23g
PROTEIN: 20g, FAT: 23g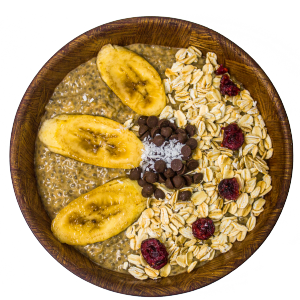 Peanut Butter Chia Breakfast Bowl
Peanut butter and fresh banana flavors blend perfectly in this mouth-watering breakfast bowl. We've added extra treats like dried cranberries, dried coconut flakes, and semi-sweet chocolate drops, and chia seeds for a protein-packed meal.
PRICE: P185.00
CALORIES: 847kcal, CARB: 93g, PROTEIN: 29g, FAT: 43g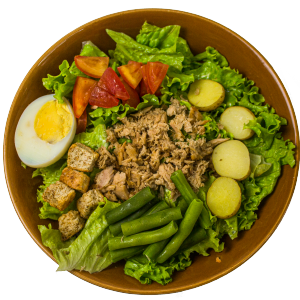 TUNA CLASSIC NICOISE SALAD WITH RANCH DRESSING
Need a protein-packed meal for your fitness routine? This salad combines tuna flakes and hard-boiled egg for that protein load and the right balance of carbs and fiber with potatoes, croutons, cherry tomatoes & olives paired with a classic ranch dressing.
PRICE: P250.00
CALORIES: 474kcal, CARB: 36g, PROTEIN: 11g, FAT: 28g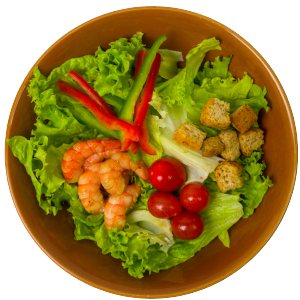 TACO SHRIMP WITH ROASTED SESAME DRESSING
Want an alternative to meat in your salad? Order this dish to enjoy a mix of pan-fried shrimps, croutons, bellpepers, almond, cherry tomatoes, red onions and garden-fresh greens with roasted sesame dressing
P250.00
CALORIES: 505kcal, CARB: 33g, PROTEIN: 13g, FAT: 37g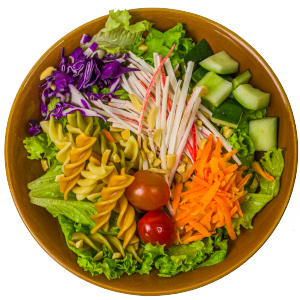 RAINBOW KANI SALAD WITH HONEY APPLE CIDER VINAIGRETTE
Perfect low-calorie, low-carb salad! We used a light apple cider vinaigrette and a lot of colorful ingredients for a balanced meal. These include: crabsticks, cherry tomatoes, carrots, cucumber, red cabbage, roasted nuts and fusilli pasta.
P250.00
CALORIES: 504kcal, CARB: 31g, PROTEIN: 8g, FAT: 38g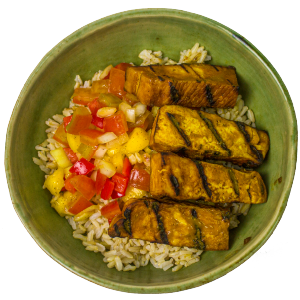 GRILLED TOFU WITH MANGO SALSA
Go vegetarian with this rice bowl! Enjoy the complementing flavors of grilled tofu marinated in our homemade blend of mustard and Worcestershire sauce and our refreshing, sweet & tangy mango salsa side dish (ripe mango cubes, bell peppers, onions, cilantro, tomatoes, crushed peanuts) on top of a good serving of fiber-rich brown rice.
P165.00
CALORIES: 575kcal, CARB: 88g, PROTEIN: 27g, FAT: 13g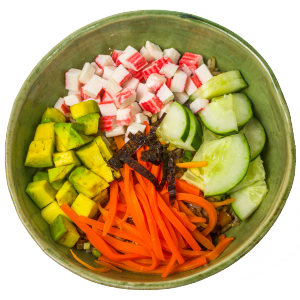 CALIFORNIA SUSHI BOWL
Enjoy the sumptuous flavor of sushi in a bowl! This healthy rice bowl is a medley of Kani cubes, cucumber, carrots, and avocado on sushi brown rice topped with nori (seaweed) strips. Don't forget to mix well with our mayo-sriracha dressing for an added kick!
P165.00
CALORIES: 673kcal, CARB: 128g, PROTEIN: 10g, FAT: 11g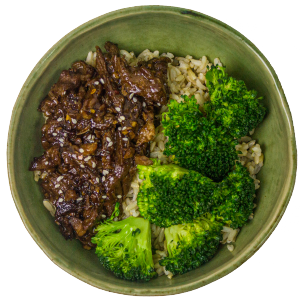 MONGOLIAN BEEF AND BROCCOLI RICE BOWL
Taste the classic combination of beef and broccoli! Beef strips marinated in our ginger-garlic sauce with just the right balance of salty, sweet, and spicy! A generous serving of steamed broccoli florets completes this power meal!
P280.00
CALORIES: 804kcal, CARB: 110g, PROTEIN: 40g, FAT: 20g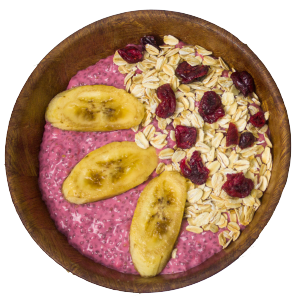 Strawberry Chia Breakfast Bowl
Have a delightful mix of strawberry jam, banana slices, and chia seeds in this fiber-rich, fruity cereal bowl served with low-fat fresh milk.
PRICE: P185.00
CALORIES: 584kcal, CARB: 83g, PROTEIN: 17g, FAT: 23g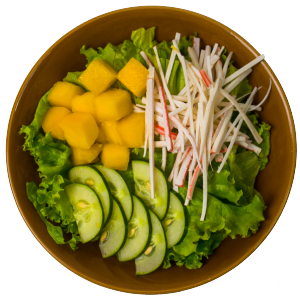 MANGO KANI SALAD WITH THOUSAND ISLAND DRESSING
Slices of sweet mangoes and savory crabsticks give this dish a contrast of flavors for your palate while cucumbers mixed with fresh greens add texture to this classic Japanese salad topped with a thousand island dressing.
PRICE: P250.00
CALORIES: 295kcal, CARB: 43g, PROTEIN: 7g, FAT: 15g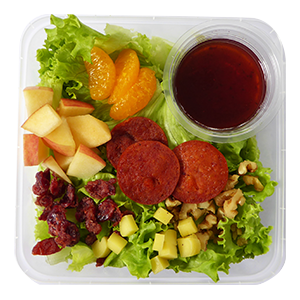 HOLIDAY TOSSED SALAD WITH STRAWBERRY DRESSING
If you love fresh fruit in your salad, then this one is for you! Chopped apples, mandarin oranges, dried cranberries mixed with walnuts, cheese and pepperoni with sweet-tangy strawberry dressing.
P 250.00
CALORIES: 501kcal, CARB: 38g, PROTEIN: 9g, FAT: 36g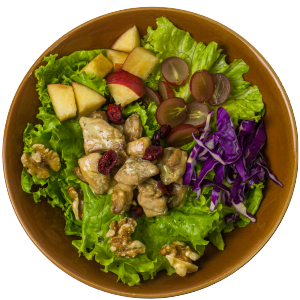 CHICKEN WALDORF SALAD
Have a meaty, fruity salad with our Chicken Waldorf Salad. This modern version adds chicken breast cubes with the salad's traditional ingredients: apples, celery, and grapes. Served on a bed of lettuce and paired with seasoned honey mustard mayonnaise dressing.
P250.00
CALORIES: 516kcal, CARB: 59g, PROTEIN: 22g, FAT: 31g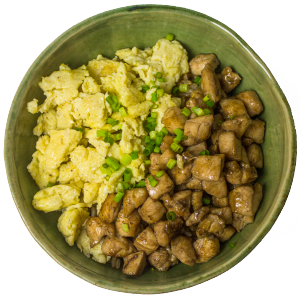 CHINESE FRIED RICE WITH SESAME CHICKEN
Hearty & healthy, this rice bowl meal will fill you up with its tender, savory-tangy chicken cubes and scrambled egg combo. We've added a hint of fragrant sesame oil and spring onions for that undeniably familiar Asian taste we all love!
P170.00
CALORIES: 876kcal, CARB: 96g, PROTEIN: 36g, FAT: 37g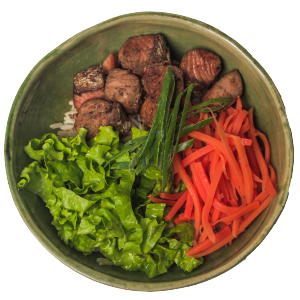 ASIAN SALMON RICE BOWL
If there's one reason to order this rice bowl, it's the salmon! We've made your favorite salmon superfood even more tastier using our light soy sauce & rice vinegar marinade. Plus! We never forget to add a generous serving of fresh veggies (lettuce, carrots, leeks) so you get the best of flavor and nutrients in one meal!
P280.00
CALORIES: 534kcal, CARB: 73g, PROTEIN: 25g, FAT: 14g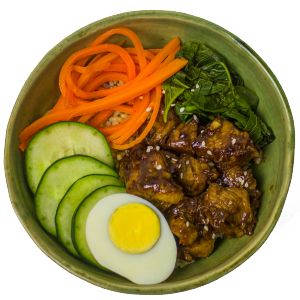 PORK TERIYAKI RICE BOWL
Treat yourself to a tender & meaty rice bowl meal! Enjoy first-class pork tenderloin marinated in our freshly made teriyaki sauce and partnered with boiled egg, blanched spinach and slices of carrots and cucumber as your side salad. All that topped on a healthy brown rice.
P195.00
CALORIES: 735kcal, CARB: 97g, PROTEIN: 40g, FAT: 21g
IMPORTANT ORDERING DETAILS
Order should be placed 1-2 days advance.
Plus P50 delivery charge. FREE DELIVERY IN METRO MANILA for orders P900 and up.
Delivery from Sunday-Thursday from 3pm-9pm. No time commitment.
For orders or inquiries call/text us now at 0917-8093196